Hemp and textile

Hemp is a simple plant which may grow up to 5m high. Among other things it is also for the purpose of processing it into textile.
The stem is constructed from three main parts:
Long primary fibers which run along the entire lenght of the plant. They are the most precious part of the stem and are one of the strongest plant fibers known today. In average they are up to 2 m long and are used for production of clothing, ropes and technical textile.
Short secondary fibers are of medium lenght (0,5 – 5 cm) and have a higher content of lignine. They are not considered as valuable as the former and are more frequently formed when hemp is planted at a lesser density. They are mosty being used in the paper industry, construction – insulation, bricks,...
Cellulose part (gravel) of the stem in the middle of which there is a hollow center.
Hemp fiber
anti-allergenic, does not produce molds,self extinguishing, moth and bacteria resistant
is a fine moisture regulator, contains heat, airflow is lesser than with other fabrics
has a high recycling potential

positive effect on a home's comfort (hemp rugs, furniture, curtains, blankets, hemp house – bricks or walls made from hempcrete)

is hydrophobic, with a low density and when burning produces a minimal ammount of toxic gas

by enlarging the diameter of fibers their tensile strength lowers and mistakes in fibers, fabric, knitwear become more frequent. This is why longer fibers are better (fiber in diameter 4µm = 180GPa, fiber in diameter 800 µm = 10MPa)

Textile made from hemp fiber
For textile long primary fibers are used. Fibers are cleansed, spun and then woven in comfortable, durable and firm material for jackets, trousers, shirts, even underwear...as well as technical textile such as tent canvas, sails, geotextiles...Hemp textile is durable, has excellent heat-resistance, a high degree of vapor permeability, mold resistant and antiallergenic.

Rope and thread
Not long ago hemp ropes have been replaced by cheaper synthetic materials although experts still swear on hemp rope. In wet conditions hemp fiber gains even better qualities meaning it acquires better mechanical qualities. Due to the orugh surface of hemp rope and its hydrophobic character knots made from hemp rope are much more stable than those made from synthetic materials. Hemp ropes are widely acclaimed in maritime studies as well as other economic categories – in the 17th century 50-100 tons of hemp (ropes, sails,...) was used in the production of one sailboat.! The overall firmness of hemp rope is extremely high while their density level remains very low.
Hemp threads are suitable for embroideries, decorations such as bracelets, curtains, ornaments,...since the threads are smooth and even (not to mention the pleasant feeling the provide when glazing over the skin) knots made are very strong.
Hemp threads are also suitable for use in the garden and the environment – the thread is undemanding, does not harm plants and is fully biodegradable.
Source: Konopko archives
Written by: Elvisa Hasić, elvisa.hasic@konopko.si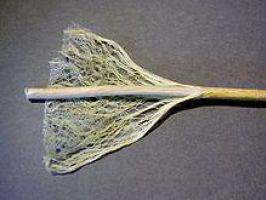 Vlakna industrijske konoplje
Vlakna iz konoplje pridobivamo s pomočjo mehčanja (maceracije) ali z lupljenjem (dekortikacijo). Vlakno sestavljajo celuloza, hemiceluloza in lignin in je dolgo od 20 do 200 cm. Vlakna iz moških rastlin so mehka in prožna in vsebujejo približno 18% kakovostnih vlaken, vlakna iz ženskih rastlin pa so groba, trša in manj prožna in vsebujejo približno 12% kakovostnih vlaken.
Uporaba konopljinih vlaken: tehnični tekstil (vrvi, mreže, šotorska platna, jadra, preproge...), tekstil (oblačila, spodnje perilo, jakne, obutev, prti, pregrinjala, posteljnina...), industrija in gradbeništvo (geotekstil, biokompoziti, netkane tekstilije, cevi, kalupiranje, izolacija...).